News
The 'disobedient' daughter of an Argentine torturer fights not to be excluded from the inheritance for "unworthy"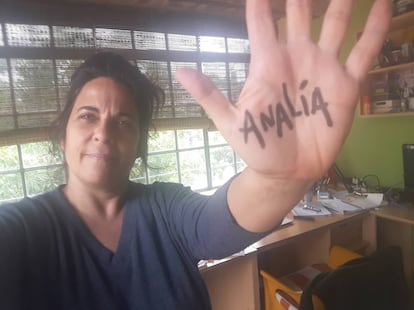 Analía Kalinec was born in 1979, in the midst of the Argentine dictatorship. When she was a child, her father, the police officer Eduardo Kalinec, would tickle her and tell her the story of Cottontail, a rabbit who ignores her and gets hurt. "You have to pay attention, you have to obey. I am her vizcachita, when she arrives I crawl to hang on to her pants, she picks me up, hugs me, kisses me and laughs at my little teeth. My dad is good. I don't want him to be angry, I pay attention", writes Kalinec in the memoir I will bear your name (Tide, 2021). Kalinec grew up and when he found out that his father had committed crimes against humanity during the dictatorship, he rebelled against the imposed order of silence. The repressor, sentenced to life imprisonment, seeks to punish her daughter's disobedience with a lawsuit before the courts to declare her unworthy of her and thus deprive her of her family inheritance.
"The lawsuit where they seek to exclude me and declare me unworthy is the maximum and most complete expression of how far hatred goes and the impossibility of living with the difference of my own father and my sisters," says Kalinec by phone.
In Argentina you cannot disinherit children. Legislation declares them heirs to at least two-thirds of their parents' fortune. In order to lose that right, the Justice has to guarantee that they have committed some serious act against their parents that makes them unworthy of the succession of property, such as attempting on their life or denouncing them falsely.
Kalinec learned of the complaint against him on February 22, 2019, the day of his father's 67th birthday. His mother had died four years earlier. In the brief that he presented to the courts, Eduardo Kalinec wonders how much the public rejection of the second of his four daughters contributed to the life sentence he received in 2010. According to his testimony, everything was going well in his family until 2005, when He was arrested. Shortly after, his daughter was "detected" by activists and began to believe the accusations against him.
"In my family there was such a strong mandate of silence that even asking questions already expelled. My mom told me that I had had a left-handed attack, that I should stay away from those activists, that how was I going to ask questions after everything my dad did for us," Kalinec recalls about the moment when she began to distance herself from his own family.
After more than a decade without seeing each other or maintaining any type of contact, father and daughter crossed paths in October 2019 during a mandatory conciliation hearing issued within the framework of that complaint. Last week, Kalinec filed her plea and asked the judge to dismiss the "indignity" lawsuit against her. "Do not allow this disobedient daughter to the silence mandates to be punished for thinking differently from the genocidal father," asked Judge Marcela Eiff. Judgment is expected to be delivered before the end of the year.
"The bond of affection and family loyalty does not exempt us from repudiating these crimes and from working so that they are never committed again," explains Kalinec regarding his decision to publicly denounce the atrocities perpetrated by his father. The Justice considered proven his participation in kidnappings, torture and murders committed in the clandestine detention centers Atlético, Banco and Olimpo, in Buenos Aires.
During the trial in which the former police officer was sentenced to life, some survivors identified him as Doctor K and described some of the torture he inflicted on them. Ana María Careaga, detained for four months at Atlético, stated that she kicked her when she went to the bathroom. "Do you want me to open your legs and make you abort?" He threatened her on one occasion. Careaga was 16 years old and three months pregnant when the military kidnapped her. Miguel D'Agostino, another survivor, recognized him as one of the three men who interrogated him with electric prods in the "operating room", as they called the torture room of this clandestine detention center.
In 2020, the Justice granted Eduardo Kalinec the benefit of accessing temporary exits. Among those who opposed was Analía. "My dad was tried and convicted, but he never repented and would do it again," questioned her daughter at the time. Today Kalinec is a member of the collective Histories of Disobedience, made up of relatives of repressors. "Families are the hard core where the logic of denialism and hate speech are reproduced. It is important to be able to understand these logics so that they do not repeat themselves more", he assures.
"Faced with the denial of my father and my sisters, I expressly want to vindicate and list in this allegation each one of the cases, each one of the victims by name and surname for which my father was convicted of aggravated homicide, for qualified kidnapping. and for torture in 153 acts and destroying the alleged generality of crimes against humanity", Kalinec said in his plea. Disobeying —she complained to the judge— when your father is a criminal cannot be a reason to be declared unworthy.
Subscribe here to the EL PAÍS América newsletter and receive all the key information on current affairs in the region