World
"As soon as I can, I'm leaving here": being a health worker in saturated cities in summer | Economy
The Emergency Service of the Torrevieja Hospital (Alicante) attends between 150 and 170 people in March. "In summer", explains José Peris (63 years old), a doctor at the hospital, "we are around 400 patients a day". "Absorbing all that is impossible," laments this health worker, accustomed to the fact that the summer period, so pleasant for other professionals, is "the worst time of the year" for him. Elena Aleksandrovna Bondareva, a 48-year-old doctor from the Guardamar del Segura health center (Alicante), works 20 kilometers away. "We already go with our tongues out in winter, so you can't imagine in summer," she explains, this health worker, "tired" of the "avalanche" of patients she faces in July and August. This floating population, thousands of tourists who arrive in cities with public services designed for fewer neighbors, worsens the day-to-day life of health workers who work in coastal areas.
The saturation of these clinics and hospitals has several consequences, all of them negative. One is that it's "very difficult" to get attention to be precise, says Bondareva. "They give me 10 minutes for patients I don't know. Yesterday I treated a 75-year-old man from Madrid with hypertrophic diabetes, who had had prostate cancer and hypertension. How am I going to serve that person in 10 minutes? Belgian or English patients also come with whom I do not understand each other. In order to understand what is happening to him, I need a long time with the Google translator, turning the screen 10 times until we understand each other", adds the doctor from Guardamar.
"My health center sometimes reminds me to the cabin of the Marx brothers. It gets to the top, "says Miguel Gallardo (57 years old), a nurse at the Las Lagunas health center, in Mijas (Málaga). "For the residents of the area it is a terrible feeling. They already perceive that the waits are long; in summer they are eternal. It makes me very sad, "he criticizes. "There are neighbors who stop coming in the summer to avoid meeting so many tourists. The queues are abysmal", indicates a doctor from Sanxenxo (Galicia) who prefers not to give her name.
These eternal waiting times generate anger in patients, who do not always empathize with overloaded toilets. "Tourists are much more demanding than those from the town. They understand better that we don't get to everything, "adds the Galician health company. "Those who are on vacation go faster. They have a mentality of beach, pool, beach bar, relaxation… And they don't want to waste a minute at the doctor. They don't understand that we can't go faster," says Concepción Canillas, a 57-year-old nurse at the Rincón de la Victoria health center (Málaga). "We live in full amazon phenomenon. We want everything now or it doesn't work for us, in a hurry, "adds Carlos Álvarez, a 51-year-old doctor at the Foietes health center in Benidorm (Alicante).
The anger of patients, especially tourists, sometimes overflows limits that compromise the safety of health workers. "The guards are pitiful. I have been insulted by patients who had been waiting three or four hours, angry with me instead of with the lack of resources that administrations give us. These aberrations are being normalized. We are hostages of that climate of animosity", indicates the nurse from Mijas. Recently, a tourist punched one of her classmates, breaking her glasses. "She is on leave due to depression." "There are patients who get frustrated and aggressive. Several have insulted me. We have had to call the police on some occasions," says Álvarez.
For the Benidorm doctor, summer is so stressful that he usually goes on vacation in September "to release the stress of summer; If I leave knowing that later I am going to return to that level of pressure, I cannot rest". "The doctors who work in tourist areas", he continues, "know what we are facing, but it still overwhelms you. it burns you It shows in everyone's mood, down and tired. "This job is vocational. With the guards, conciliation is impossible and nobody studies nursing for the salary. But it is that in these conditions one takes away the desire. And we must remember that we are exhausted, more psychologically than physically, due to the pandemic", adds the nurse from Malaga.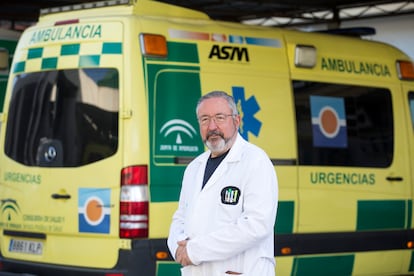 The service that suffers the most is the Emergency Room, where incidents related to vacations abound in summer: gastroenteritis, respiratory symptoms, sore throats, jellyfish stings, injuries caused by stones from the sea, drunk at night… Canillas criticizes the lack of "health education" of many tourists, "who come to the doctor for anything; many of the pathologies for which they come are banal".
Reinforcement
The solution to this problem is "obvious" for the health workers consulted: reinforce the templates. Along these lines, the Andalusian Health Council launched an offer at the end of June 18,000 positions to cover vacations in public health and announced 185 more professionals for 40 centers of tourist towns. the same department In the Valencian community it will hire 7,357 more professionals and reinforce the workforce in 56 health care centers on the coast. The Xunta also announces reinforcements in Sanxenxo in the summer. In addition, the Ministry of Health and the City Council have signed an agreement so that the municipality takes charge of the housing costs of health workers from other communities who work in Sanxenxo.
This type of reinforcement plans in summer are common and insufficient, in the opinion of the Benidorm doctor: "For example, we are about 20 professionals in my health center during the winter. In summer, when the patients we serve quadruple, we are 15 for the holidays. One or two people usually come, at most, as reinforcement. It doesn't pay off." "In addition to not receiving enough reinforcements, the problem is that they are professionals who, by the time they start to get loose, the summer is over. Resources are already scarce in winter, so in summer there is no way. It seems as if the system forces people who can afford it to go to private healthcare, with second-class services for those who have nowhere to go", says the nurse from Mijas. According to calculations by the Satse unionthis summer only 35% of nurses who are on vacation or sick leave this summer will be covered.
In this context, health centers in tourist areas hardly retain staff, who go to other municipalities as soon as they have the opportunity. This phenomenon worsens care for residents of the area, who see how many of their doctors and nurses barely have time to get to know them. "A colleague has just gone to another health center because of the stress he had, he couldn't take it anymore," says Bondareva. "People who end up here ask for a transfer right away. They don't stay because the conditions are terrible. I have had a fixed place for a year and as soon as I can I ask for the transfer. No MIR wants to come here", concludes the doctor from Sanxenxo.
This is the third chapter in the 'Precarious Summer' series, which offers testimonies from workers in stressed or especially hard sectors during July and August. If you want to share your testimony you can do it in the mail [email protected].