World
The bank turns its strategy around and exchanges international funds for its own product | Funds and Plans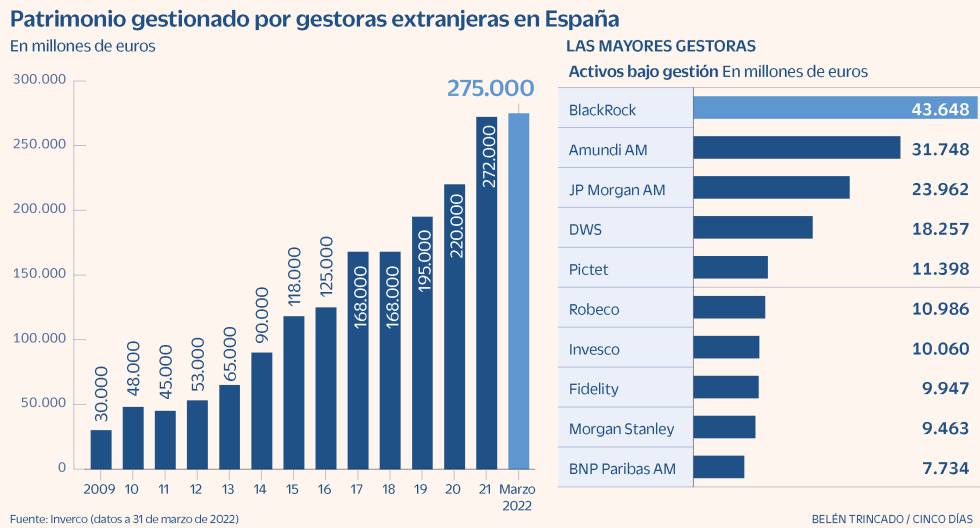 The winds of change are blowing in the international management companies that operate in Spain. After several years of meteoric growth, banks have begun to hire less of their mutual funds. In some cases they are beginning to replace them with their own product.
At the end of the first quarter, these asset managers (American, French, Swiss and German…) had funds distributed in Spain for a volume of 275,000 million euros. The figure is five times higher than what they accumulated 10 years ago.
European regulation has had a lot to do with the exponential increase in the business of foreign managers. Specifically, the MiFID 2 financial markets directive that encourages companies dedicated to distributing investment products to offer their clients products from other entities.
In Spain, banks dominate the distribution of funds with an iron hand, with a market share of 88%. Before MiFID 2, Santander or BBVA basically sold investment funds from their own managers, and kept a large part of the product's management fee.
With the arrival of the new regulation, they were giving entry to the funds of international managers. Both through funds of funds (which invest in the products of foreign managers), as well as with discretionary portfolio management or advisory contracts. However, that trend seems to be changing.
A crooked quarter
Although foreign firms have not yet reported the data for the last three months to Inverco, the sector association, several directors of large managers confirm that the quarter has been bad and that money has begun to come out.
"In the first three months of the year, there were already money outflows, but in the following three the situation has worsened," explains the chief executive of one of the 10 largest foreign asset management companies operating in Spain.
All the sources consulted agree that it has been a difficult quarter. "While subscriptions have increased in national managers, with 6,000 million deposits so far this year, money has begun to come out of foreign ones," says the head of a US asset management firm.
Part of the fall is related to the decision of some of the large bank managers to replace some of the international funds they had in their clients' portfolios with some of their own funds.
"We are seeing it above all in the fixed income part. They have begun to launch funds with a return objective, which invest in debt issues from Spain or Italy, and which can now offer yields to maturity above 3%, something that has not been seen for a long time," says the boss in Spain of a European manager.
Among the types of foreign funds that continue to attract money are those that replicate the evolution of bond indices. Many national managers have been undoing their fixed income portfolios and replacing them with this type of indexed products, which have greater maneuverability.
Subscriptions are also maintained in some inflation-linked bond funds and those on the US stock market.
"What is clear is that the quarter has gone awry little by little and now in July things are getting even worse. Many investors anticipate further declines and are opting to unwind positions and add cash. The next few months are going to be tough", points out the former manager.
The most demanded products
indexed. In recent years, international managers have sold many investment funds that replicate the evolution of stock or bond indices, with very low commissions. In most cases, these products offer better returns than those offered by funds with active managers.
Thematic. Some firms have specialized in the marketing of thematic investment funds: dedicated to water, population aging, smart cities. With these proposals they try to capture the great social and demographic trends of the coming decades.
sustainable. French, Dutch and Nordic firms have spent years specializing in investment funds that take into account environmental, social and good corporate governance (ESG) criteria. This type of product is now being highly demanded by Spanish investors.