World
Italy's risk premium hits one-month highs in the midst of a government crisis | markets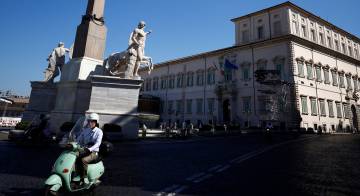 The italian risk premiumwhich measures the spread between the ten-year Italian, today exceeded 220 points again, reaching 228 basis points at the opening, a month high, given the great political instability that the country is experiencing due to the government crisis. For his part, the yields on the debt moderated after yesterday's rebound when Mario Draghi presented his resignation as prime minister, which was rejected by the head of state, Sergio Mattarella. Despite this rise, the spread with German debt at the same term is still far from the 246 points it registered in mid-June when Christine Lagarde announced her intention to raise rates this month. The nervousness that aroused in the market led the institution to advance the creation of the anti-fragmentation mechanism, the weapon with which the ECB tries to contain the tensions in the peripheral markets and avoid a repeat of the 2012 debt crisis.
Draghi will remain the Prime Minister of Italy at least until next Wednesday, when he goes to Parliament to verify if he has a sufficient majority, which "freezes" the government crisis caused by the lack of support in the Senate for a few days. of the most important partners of his coalition, the Five Star Movement (M5S). Draghi will then communicate if he is willing to continue as head of the Executive.
Draghi, with the discretion that characterizes him, yesterday gathered all his ministers to inform them that he had decided to resign and put an end to the national coalition government that he has chaired since February 2021, supported by all groups except Giorgia Meloni's ultras. And immediately afterwards he appeared at the Roman Quirinale Palace to formalize his resignation from the head of state, who, however, rejected it.
Investors are trying to take stock of the political uncertainty in the country. Thus, in the last session of the week, the Italian risk premium reached 228 at the opening, compared to 217 points with which it closed on Thursday, to later moderate to 214 basis points. For its part, the ten-year bond yield fell to 3.22% from 3.42% the day before. The interests of the debt of the rest of the countries also fall. The ten-year Spanish bond falls to 2.29% from the previous 2.34% and the German bond falls from 1.189% to 1.115%.
The Milan Stock Exchange is moving positive today and rebounds more than 1.5%, but it is still at its lowest levels since November 2020 after the sharp falls on Thursday (3.44%), losing nearly 17,000 million euros in capitalization.