World
Spain and Portugal send to Brussels the details of their plan to lower electricity | Economy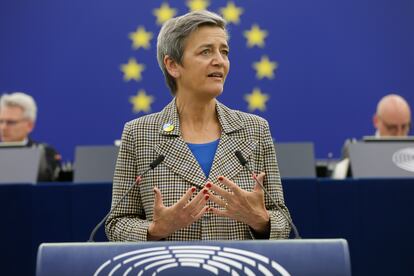 The European Commission already has to its credit the details of the Spanish-Portuguese proposal to limit the price of gas and thus lower the electricity bill. The Community Executive has confirmed receipt of the paper in which the governments of Pedro Sánchez and António Costa break down the technical fringes that remained to be closed to receive the definitive approval of the Community Executive for its definitive start-up. Brussels will study the proposal by way of "urgency". The third vice-president, Teresa Ribera, was counting on having submitted the pact last week – which already has the political approval – for consideration by the Council of Ministers, but the delay in the negotiation with Portugal caused a delay with respect to the initial calendar.
"The Commission has now received information from the Spanish and Portuguese authorities, which it will evaluate as soon as possible. Based on the information provided by Spain and Portugal, the contacts will continue at a technical level", a spokeswoman for the Community Department of Competition declared this Friday. The Executive of Ursula von der Leyen "maintains its commitment to urgently assess whether the temporary emergency measures in the electricity market proposed by Spain and Portugal are in accordance with both the EU state aid rules and the market law internal energy, within the framework of the political agreement in principle reached in the past weeks", he added.
At the end of March, Spain and Portugal received the green light from the rest of the European partners for their proposal to implement specific intervention measures in the electricity market. They did so claiming both its status as an energy island, given the very few interconnections with the rest of the continent, via France; such as the high penetration of renewables, with one of the highest rates in the Union. This last factor is fundamental, since it causes the gap between the average cost of generation and the marginal cost (the one set by the most expensive technology in each time slot) to be particularly high.
The Spanish plan goes through limiting – first to 40 euros per megawatt hour (MWh), then to 50 – the price of natural gas and coal that feed power generation plants. With this limit, the cost of which will be assumed by the consumers themselves in a complex system that will allow them to benefit clearly in net terms, the cost of electricity in the wholesale market should drop to around 130 or 140 euros per MWh, compared to to the current 200+. This substantial reduction will affect customers who have a regulated contract (approximately 40% of the total) but not for those who have a free market rate, who will probably be penalized.
He knows in depth all the sides of the coin.
subscribe