World
Brufau (Repsol): "Those who think that gas and oil will not be relevant in the future are mistaken" | Economy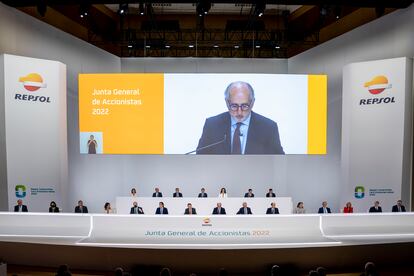 The president of Repsol, Antonio Brufau, charged this Friday against the European policy of prohibiting hydraulic fracturing to obtain oil and gas while importing growing volumes of these fuels from countries that use this extractive technique. "It saddens me to see the contradiction in prohibiting the fracking in Europe and, now that some are running out of Russian gas, we decide to import the gas produced with fracking in United States. Where is the consistency? ", He charged at the meeting of shareholders of the Spanish oil company, held in Madrid. Brufau has also responded forcefully to "those who think that gas and oil are not going to play a relevant role in the mix of the future": "they are wrong", he said, "they are going to have a less important role, but necessarily a protagonist".
The non-executive chairman of Repsol has taken advantage of his speech to ask for "less ideology and more pragmatism" in the public discourse around decarbonisation: "When we listen to certain politicians and pressure groups, we can think that the energy transition is a revolution for destroy everything past and, immediately, achieve a different future. You have to decarbonise, but doing so takes time and costs." According to his calculations, to complete it, 275 billion dollars (260 billion euros, 150 times the Spanish GDP) will be needed in investments over the next three decades. "It is something that citizens should know," he insisted. "The energy transition has to be done, but it has to be done well: without demagogy".
Decarbonization, Brufau has said, "will come, but it will come in two ways: through a progressive but planned reduction in fossil fuels, which will have less and less importance; and by renewable electricity generation, renewable and synthetic fuels, hydrogen, and CO₂ capture. Let's support all these alternative technologies: renewable electrification is important, but it is not the only alternative. And not all the necessary steps are being taken to make this a reality", he claimed.
In this sense, the director has cataloged renewable energies as a "gift of the planet" that "will allow progress in decarbonization". "But man does not decide when to produce this energy: the sun shines when it shines and the wind blows when it blows. It is an energy that man cannot decide when he will produce, unlike natural gas, coal, nuclear power and part of hydraulics", he added.
After becoming clear in recent weeks – since the beginning of the invasion of Ukraine by Russian troops – the enormous risks arising from the high dependence on Russia for the supply of oil and, above all, natural gas, Brufau has warned that the EU will face a very similar situation in the coming years with what he calls the "geostrategy and geopolitics of minerals": ​​"Where is Europe located in all this? It is something critical, and soon we will have the same problem with minerals. [de fuentes de suministro] of hydrocarbons".
Criticism of the ban on internal combustion cars
He knows in depth all the sides of the coin.
subscribe
The highest representative of Repsol —which is, among other things, the leading producer and marketer of automotive fuel in Spain— has also spoken out at the shareholders' meeting against the ban on gasoline and diesel cars in the EU from 2035. "It's a real mistake: the electric vehicle is going to be an opportunity, but it doesn't have to be the only one. When the objective of eliminating the internal combustion vehicle is set, several things are achieved: that nobody invests in technology; that nobody changes their car and that, therefore, they consume more; that more and less favored groups are segmented; that companies like ours lose incentives to invest in synthetic fuels and biofuels, which do not emit…", he listed. "These are rules that prohibit, not rules that motivate. These are not decisions that politicians have to make, but citizens, who are the ones who will pay the bill for the transition."