World
Jos Dijsselhof (SIX): "With the invasion of Ukraine hardly anyone is now considering an IPO" | Business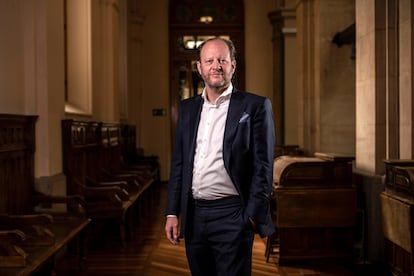 The integration of two companies after a takeover bid is never easy, but the challenge is enormous if the process takes place in the midst of a global pandemic. SIX Group, owner of the Swiss Stock Exchange, launched its offer —of more than 2,800 million euros— to buy Bolsas y Mercados Españoles (BME) in November 2019 and completed the operation in September 2020 when it acquired 100% of the capital and delisted the company. The 2021 financial year, therefore, was the first in which the SIX accounts fully included the contribution of its new investee. The CEO of the Swiss group and non-executive president of BME, Jos Dijsselhof (Zwolle, the Netherlands, 1965), assures that the integration is on the right track.
Ask. How do you assess the results of 2021?
Answer. Although the context was complex, we are happy with the results. We met the objectives set out in our strategic plan with operating income of almost 1,500 million euros, 9% more, and ebitda improved by 14.8% to 420 million.
P. However, net profit fell by 83%…
R. For me, the most important thing is that recurring business was very solid. Regarding the net profit, it was affected by the extraordinary ones in our investee Worldline. In 2020, the sale of a block of shares in Worldline and its merger with Ingenico had a positive impact on our accounts. On the other hand, in 2021 the sale of one of its subsidiaries led to a deterioration in our accounts of 100 million.
P. What are your forecasts for 2022?
He knows in depth all the sides of the coin.
subscribe
R. If you had asked me this question before February 20, I would have told you that the outlook was quite positive. The invasion of Ukraine has completely changed the situation. In our stock market business, there is likely to be more volatility, so the trading volume will be higher. In contrast, now hardly anyone is considering an IPO. We hope that as there is more stability, the companies resume their plans to list. Regarding our data business, there is a lot of demand from our customers. In addition, we have recently made two acquisitions and have launched ESG initiatives [criterios ambientales, sociales y de gobierno corporativo] for investment funds or cloud projects. As regards the third leg of SIX's business, banking services, we also foresee growth in activities such as credit cards, mobile payments or the use of ATMs.
P. In the presentation of the 2021 accounts, you forecast a 4% improvement in SIX revenues in 2022. Will all this growth be organic? Or do you contemplate more acquisitions?
R. This growth forecast is organic, although it is true that we are always analyzing possible acquisitions, both in the contracting business and in the data or payment business.
P. Do they have enough liquidity to finance these new purchases?
R. Yes, although it depends on its size. If they are small or medium acquisitions, we can finance ourselves. In addition, we have the capacity to go to market and we have our participation in Worldline there.
P. How is the BME integration going?
R. When launching the takeover bid, we designed a plan that runs until 2024. At that time we still did not have all the information from BME. Now, with the data in hand, we can say that we will be able to adjust the plan quite precisely. Thanks to the synergies, we are achieving improvements in income and reductions in costs. We are happy considering the difficult circumstances in which the integration is taking place. I'm confident that as face-to-face work accelerates and teams are able to work together, those synergies will accelerate.
P. The trading volume of the Spanish Stock Exchange in 2021 was the lowest since 1999. Are you worried?
R. MiFid [la directiva europea que regula los servicios financieros] It has brought more competition and we have to play on that field. The market share of all European Stock Exchanges is under pressure due to competition from alternative platforms [MTF, por sus siglas en inglés] and venture capital. Our teams work hard and I think we will be able to maintain a market share of 60%, which in Switzerland may even be a bit higher. If the investor only wants the cost of the transaction to be as low as possible, he will go to an MTF, but if he values ​​obtaining the best spread [precio de compra o venta de las acciones]They will come with us.
P. In an inflationary world like the current one, do you plan to raise rates?
R. Within our activities we have very different rates. In some cases, we could raise the price to protect the margin if the costs of that service have risen, but in other more competitive areas or where our costs fall as a result of synergies, we could even reduce the rates.
P. What can be done to get more companies listed on the Stock Exchange?
R. First of all, the market must be opened up to a greater number of companies. In this sense, BME Growth [el mercado para pymes] it is a great initiative. In addition, companies from all over the world must be attracted, not just focused on the domestic business fabric. From the government side, better tax treatment would also help.
P. However, from the fiscal point of view, the trend seems to be the opposite. Europe, for example, is considering integrating the tax on financial transactions or the Tobin tax into its budget. How do you rate it?
R. We are in a global business and putting more taxes does not help European markets to be more competitive. The experience in Spain is that this rate has an effect on the volume of contracting, so that the State's collection is lower than originally planned.
P. What do you think of cryptocurrencies?
R. Personally, I would only put my money in assets tied to the real economy. From a business point of view for SIX, I was skeptical at first, but now I recognize that this market is growing. If our clients believe that we should be there, we will work to offer them the best services.
P. In 2021, SIX launched the first digital bond. Will we ever see a digital stock market in Spain?
R. I would love to see a BME Digital Exchange, as we would like to offer this service to Europe from Spain. In Switzerland we already have a license and we are analyzing how we could provide this service in the EU.
P. What growth plans do you have for BME in Latin America?
R. BME has a long history of relations with the Stock Exchanges of this region. We still have to design a plan, but we are very interested in this possibility. We believe that Latin America represents a great growth opportunity for BME.