World
Glovo delivery men denounce the black market of rented accounts | Economy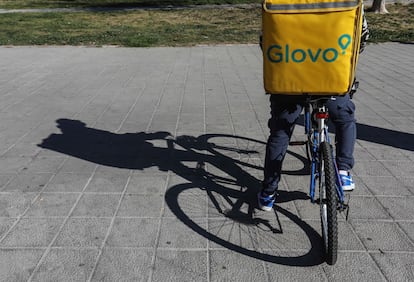 Enrique has been delivering food for Glovo through the streets of Barcelona for almost three years with his motorcycle. This 49-year-old Catalan, who prefers not to use his real name, reconciles this job with a degree in Engineering. Staying home a lot to study, he is also a customer of the yellow backpack company. He orders at least four times a week and over the last year he has noticed that the face of eight out of ten delivery men who bring him food does not match the one that appears in the profile of the application. "Sometimes a man is in the photo, but then a woman comes in," he says. He considers that 60% of the delivery men work with rented accounts (in exchange for paying a percentage of their earnings to the holder), are not registered with Social Security or pay the corresponding taxes.
From Glovo they report that they actively work to prevent the illegal use of the application and carry out regular controls of the different operations. A version that does not coincide with that of many of its workers. The riders who comply with all their obligations feel threatened by this parallel trade and denounce that there is no longer work on the streets for everyone. "There are more times when you have to stand still, with the pressure that taxes come to pay at the end of the month," says Enrique. In addition to the Social Security fee, VAT and personal income tax, delivery men have to give Glovo three euros every 15 days to work with their own profile.
Pablo (30 years old), fictitious name at the request of the interested party, works for Glovo renting the account to another rider. He looks around a bit disoriented while waiting to pick up an order outside the McDonald's establishment in Cuatro Caminos (Madrid) with his bike. He left Venezuela at the end of December with his wife in search of fortune to be close to one of his brothers, who has been in the capital for six years. He found this job in a group of whatsapp of recently arrived compatriots who help each other to settle in Spain. "It was the easiest and fastest thing I could find. I am aware that it is illegal, but while I wait for my papers I have no other option. I need to enter yes or yes, "she comments. He shares the Glovo license with two other people and he works only during the weekend, from Friday to Sunday. Every 15 days he pays the account owner 25% of what he earns. Another delivery man in line at the hamburger restaurant to pick up his order is no stranger to the business of rented accounts. "From time to time I rent my license to a friend. It's a way of keeping her active, because there are days when I don't feel like going outside. It is also an opportunity to help newcomers who enter Spain without even a residence permit", he says.
According to Sebastián Honorato, Glovo delivery man and president of the Autonomous Association of Riders, the first person responsible for this illegal activity is the company itself. "It does not have an effective way of verifying electronically that the person who really does the work is the delivery person that appears identified in the application," he points out. In this Enrique agrees, who has already gone many times to the company's office to denounce the fraud, although without success. "For Glovo, the more workers on the streets, the better, and it doesn't matter if they are legal or illegal. You allow this black market of account rentals, because that is what is making you money," he notes.
The labor model of the delivery platforms, based on freelancers in most cases, suffered a very harsh first blow in September 2020, when a Supreme Court ruling ruled that the delivery men are salaried and that the relationship between a rider and the Glovo company has a labor nature. A resolution reinforced by the so-called delivery law, approved by the Government in May of last year, which forced companies in the sector to put their workers on the payroll. Despite having made changes to the way they operate, several platforms continue to be questioned by the unions. Glovo has paid nearly 2,000 workers, far from the 12,000 it has throughout Spain.
More competition and lower wages
He knows in depth all the sides of the coin.
subscribe
The dark business of rented accounts has been around for years, but with the outbreak of the pandemic, the red line has been crossed. Glovo's delivery men denounce that in the last two years the company has cut their salary by almost half with the excuse that it has more employees. "They take advantage of the fact that many people have lost their jobs and have become rider because he saw that the company could be easily entered and he had no other option", says Antonio, another Barcelona delivery man who does not want to reveal his identity. He has been working for Glovo since 2016. If a couple of years ago he earned almost 3,000 euros a month being on the street between eight and ten hours every day, now he barely reaches 1,200. He considers that the working conditions of delivery men have worsened after the entry into force of the law rider.
Before the approval of the rule, they could choose the time slot in which to go out (those with a higher score could choose earlier) up to a maximum of 62 hours per week. Instead, now each one is operational when it wants and the platform does not set limits on the number of couriers that are connected at the same time, which increases competition between them: "Before you could respond to between 30 and 40 requests a day, while Now, on a day of high demand, you don't even get 15 orders being connected all day," Antonio insists.
According to Adrián Todolí, professor of Labor and Social Security Law at the University of Valencia, Glovo has no incentives to end the business of rented accounts. "He is interested in having more delivery men who do not have other job options and who are willing to work for less money. In addition, it seems that the Labor Inspectorate has not yet come to discover this illegality and cannot put a stop to it", he assures. Unions have been aware of the parallel trade in rented accounts for years. "Many times the account holder, who is the one who receives the billing, does not pay them as much as he should," says Rubén Ranz of UGT. "Other times the owner changes the password and, suddenly, the renter can no longer use it or is left without receiving payment for the time during which he has worked," adds Carmen Juares, from CC OO of Catalonia. Some abuses that, in her opinion, those affected should denounce so that justice can have evidence and uncover this black market.
Exclusive content for subscribers
read without limits