World
The abusive mortgage courts resolve more than half a million cases, but still have 200,000 pending | Economy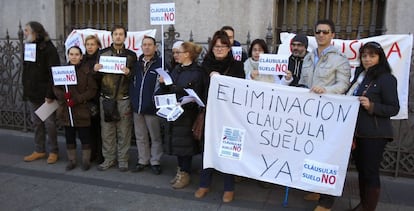 The courts specialized in abusive mortgage clauses have already handed down more than half a million sentences (501,566, exactly), since this type of body was created in June 2017. That means that they have resolved 70.3% of the 713,129 cases that they have reached them or, to put it another way, they still have 212,969 cases to resolve. This is reflected in the latest balance of the General Council of the Judiciary (CGPJ), released this Tuesday and related to the data of 2021. One more year, the sentences were overwhelmingly favorable to bank clients, to whom the judges agreed. almost 98% of the time.
Last year's figures confirm that the great traffic jam suffered by this type of court, criticized by professional associations and consumer organizations, is slowly unraveling. The 143,050 cases resolved in 2021 are 24% more than in 2020, a year marked by the paralysis caused by the coronavirus pandemic, and return activity to 2019 levels (141,643 cases resolved). But the total burden was not reduced by the same amount because at the same time it must be taken into account that there is still mortgage conflict: last year there were still 116,293 new cases. It is only 5% more than in the first year of the pandemic and, more importantly, 12% less than in 2019. This trend towards fewer and fewer lawsuits being received and, at the same time, more cases being concluded is what brought last year's resolution rate to 123%. In other words, almost a quarter more cases were resolved than those that occurred, which left the absolute resolution rate, since the start of these courts in 2017, at 70.3%, 10 percentage points more than in 2020 .
But the system still has big shadows. The specialization of courts to deal with cases of abusive clauses in mortgages (such as floor clauses, early maturity clauses, an inadequate distribution of the costs of formalizing the loan or multi-currency mortgages) began in June 2017 with one court per province, with the exception of the island territories. This caused a very rapid saturation in the most populated, with the consequent criticism from both professional associations and consumer organizations. Meanwhile, in other territories already last year it was decided that it was not necessary to have a court specifically dedicated to this work, a plan in which the CGPJ has deepened this year.
As a result of these asymmetries, Madrid emerges as a great black point. It is the most populated province and the only one of the four large regional housing markets (along with Andalusia, Catalonia and the Valencian Community) that is single-provincial, which means concentrating all the mortgage disputes in a single court. The result is the lowest resolution rate among all communities. Since 2017, fewer than four out of 10 admitted cases (38.8%) have been resolved. The following with the highest cap are Catalonia (63% resolved cases) and Andalusia (65.3%), but in both cases with a great difference with respect to the region of the capital. In the latter, even last year many fewer cases were resolved than those admitted (15,122 cases were received and 12,626 were concluded, which means an annual resolution rate of 84%), while the specialized courts of Andalusia or Catalonia did manage resolve more issues than entered.
In fact, Catalonia led the resolution rates in 2021, with 179.3% (meaning that almost twice as many cases were resolved as new ones were received), closely followed by Extremadura (178.9%) and, with a little more distance, by the Valencian Community (153.8%). Last year, all the communities except four (Castilla y León, the Basque Country, Asturias and Madrid) managed to reduce their load of pending matters. Since June 2017, the one that has achieved the greatest effectiveness in resolving cases is Aragón, with a resolution rate of 99.8% and less than 600 cases awaiting final judgment. This meant that last year Aragón stopped having this type of specialized bodies, because its Superior Court considered that it was more convenient to distribute the cases that arrived between ordinary courts of first instance.
In total, last year 123,938 sentences were issued regarding abusive clauses (some matters end up in another way, such as a final order or a decree). Of these, it was one more year that the mortgage client was right in an overwhelming majority of cases. Estimated sentences in 2021 were 121.21, 97.8% of the total. Since 2017, 420,154 rulings have been issued in favor of the borrower, 97.4% of the total.
He knows in depth all the sides of the coin.
subscribe