News
Chilean Minister Izkia Siches puts breastfeeding on the agenda of La Moneda | International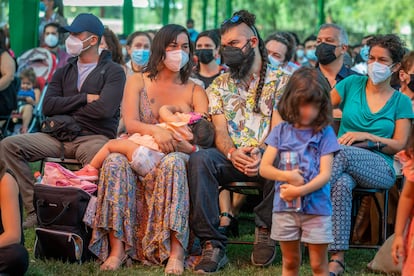 The Chilean Minister of the Interior, Izkia Siches, leader of the Cabinet of Gabriel Boric, the first Chilean government that has declared itself explicitly feminist, since the birth of her only daughter 10 months ago has expressed her special concern about breastfeeding. She has shown it on several occasions through social networks and, in her first week in office at La Moneda, one of the first photographs she uploaded was an image that showed her expressing milk with a machine in the Chilean Government Palace. , with Boric's official photo in the background. The 36-year-old doctor, without a political party, one of the most popular figures among those who lead Boric's 24 ministers -14 of those portfolios occupied by women-, last Monday accompanied the photograph with an illustration and the following message: " I am a dairy cow!"
The publication – not exempt from criticism due to the comparison and other considerations – has been a widely shared image on social networks and has given rise to various debates. Days before taking office, in the commemoration of 8M together with the women of Boric's Cabinet, Minister Siches -the first woman in Chile who has come to the Interior, in charge of political leadership and public security-, commented: "We hope that in all the places where we work as working women there is never a space where they send us to a bathroom to get milk, where they restrict us in our food freedoms, basic things that today continue to be a debt."
Siches usually emphasizes her facet as a mother. She shares photos of her little daughter Khala from her birth and, when the girl was very young, she told her about some problems that were emerging, such as the breastfeeding crisis, on her social networks. When in November he announced his resignation from the Medical College union to become the main figure in Boric's second-round campaign, whom he has known for years, he mentioned her: "I look at my daughter's face and I know what I should do" .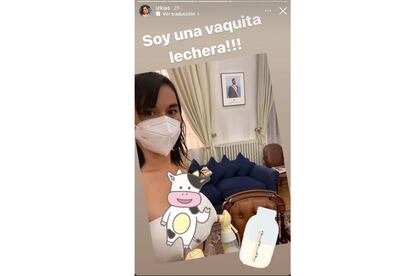 With her daughter, she made the campaign tour on a bus – the so-called route of hope, as they baptized her–, from where she uploaded photographs and videos breastfeeding. And then, after the nomination as the main political figure of the new Government, she wrote on networks: "Soon I will be Minister of the Interior, but I am still a woman, mother and wife and I will not give up any of it, so it is very likely that they will see me in the mallat Super or in the street, so that they get used to it". Use of hashtag #bodydemama
On another occasion, before he took office, he argued that Khala's young age was not an impediment to assuming such a complex position. In January she assured: "I feel very honored because the president-elect has thought of me to assume such a relevant position and I am going to do it with my daughter in my arms, just as we did in the campaign. This opens new doors." For Siches, "only women are questioned for being mothers" and "it is not that my husband is going to be a father and a mother, but that he is going to be a father and I am going to continue fulfilling my duties as a mother as corresponds". On that occasion, she spoke of the need to "rethink the entire habitual structure in which power is built in Chile" and she criticized the fact that no one asked male ministers with small children about the matter.
Join EL PAÍS to follow all the news and read without limits.
subscribe
In the first days of installation, the Boric government and its ministers have made multiple symbolic gestures around the feminist flags. The president himself, for example, appointed a woman as his driver on the day of the change of command and nominated the first female aide-de-camp to the Presidency, a police lieutenant colonel. On the political level, he decided that the Ministry of Women – led by Antonia Orellana – be installed in the Government Palace itself. It is a portfolio that, for the first time, will be part of the political committee of ministers, that is, the president's first ring of trust and where the most important decisions are made. This Administration seeks to promote a gender agenda from the entire Government and that this is reflected in each of the public policies, while the constitutional convention advances steadily to expand the sexual and reproductive rights of Chilean women.
The government ministers are seen with their boys and girls, like last Sunday when the Cabinet celebrated the inauguration of a popular commune in the south of Santiago, La Pintana. Siches, Orellana and the Minister of Culture, Julieta Brodsky, appeared with their sons and daughters, although so did the Minister of Economy, Nicolás Grau, who arrived with his daughter.
It has been a complex landing in office. On Tuesday, on Siches's first official tour as minister, she was met with an ambush –with shots fired and burned cars– when she tried to enter the Mapuche community of Temucuicui, in the region of La Araucanía, a fact that she chose not to denounce before Justice. This Friday, at the end of her first week, she reflected on these days of installation: "It was an intense week. I have had to lead a demanding ministry, without neglecting my work as a mother. Although she has been exhausting, I have felt the gratification of working for all the people of this country. Thank you very much to those who have given me their support and to my team!".
Subscribe here to newsletter of EL PAÍS America and receive all the informative keys of the current situation in the region.