News
Poland makes its Soviet aircraft available to the US for the defense of Ukraine | International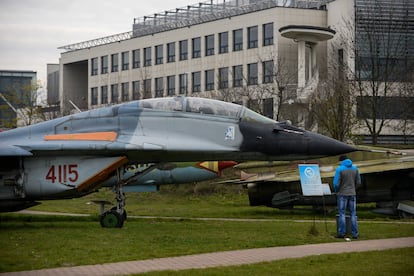 Old Soviet planes to help Ukraine stop Russian aggression. The Polish government announced this Tuesday a paradoxical military pirouette: its intention to transfer all its Soviet-made MiG-29 fighters to the base that the United States has in Ramstein (Germany), so that they can be put "immediately and without cost" at the disposal of the defense of Ukraine. It is estimated that they add about 28 units. Washington has since shown its doubts about it. "It's just not clear to us that there's a good enough reason to do it," said John Kirby, a Pentagon spokesman. "We will remain in contact with Poland and our other NATO allies to discuss this matter and the difficult logistical challenges it represents, but we do not believe that Poland's proposal is tenable." The US Defense spokesman has assured, however, that if Poland wants to transfer combat aircraft to Ukraine it is "a decision of its own Government".
Warsaw demanded that used US aircraft of "a corresponding operational capacity" be handed over to them in return. This was announced on social networks by the head of Polish Foreign Affairs, Zbigniew Rau, after his prime minister, Mateusz Morawiecki, denied on Monday that Poland had the intention of directly transferring these combat aircraft to Ukraine.
The gesture had caught Washington by surprise, as recognized by the Undersecretary of State for Political Affairs, Victoria Nuland, the third authority in US diplomacy, during a hearing of the Senate Foreign Relations Committee. But he was responding to the aspirations expressed by the United States and the United Kingdom in recent weeks, in which they have pushed for NATO countries that possess Soviet-made fighter planes (that is: Bulgaria and Slovakia, in addition to Poland) make them available to the Ukrainian air force. It is a plea that Kiev has also joined on several occasions. The interest that these fighters are one of the great symbols of the Cold War, and not others, lies in the fact that they are the aircraft with which Ukrainian pilots have learned to fly.
Warsaw thus changed its discourse in the face of intelligence reports that predict an intensification of the offensive by the Russian army now that the war is approaching its third week. And he does so after days of refusing the loan, for fear that his decision would be seen as a beautiful case by Vladimir Putin. Poland also encourages the other countries to "do the same". On Sunday, US Secretary of State Antony Blinken said that countries wishing to do so had Washington's permission.
Ukrainian President Volodymyr Zelensky launched a "desperate request for European countries to provide Russian-made aircraft" to fight Russian invaders during a video call with US lawmakers on Saturday. He also asked that the United States stop buying Russian crude, a wish that was granted on Tuesday. Congressmen have since pressed the Biden administration to facilitate the transfer of those fighter jets.
Join EL PAÍS to follow all the news and read without limits.
subscribe
Poland, a NATO member, shares a border with Ukraine. Nuland added on Tuesday in the Senate that Washington was also studying the possibility of placing some Patriot missile batteries in that Eastern European country.
Follow all the international information in Facebook and Twitteror in our weekly newsletter.